The eolid nudibranchs do not have specialized naked gills like the dorids. Instead, they usually have multiple paired rows of dorsal processes called cerata. While they do greatly increase the surface area of the nudibranch for respiration, they often also function in defense. Most eolids are specialized feeders on cniderians, otherwise known as corals and their relatives. Cniderians usually have stinging cells called nematocysts to catch prey or try to deter predation. This defense doesn't keep them from being eaten by nudibranchs, but many of the nudibranchs are able to take those nematocysts from their prey and use them in their own defense. They somehow keep from digesting the nematocysts they ingest along with their prey's tissue and move those stinging cells through branches of the digestive system that extend up into the cerata. There, in the tips of the cerata, the nematocysts are put into place and cause the nudibranch to become as effective at stinging potential predators, usually fish, as are the cniderians themselves. Some eolids eat hydroids, others eat anemones or hard or soft corals. One even eats the dreaded Portuguese man-o-war. Some, however, eat harmless prey without nematocysts, and these species often rely on camouflage to protect themselves. As in the other nudibranch groups, there is some fascinating biology going on behind the scenes that makes the eolids much more than just attractive photo subjects.
In the Marshalls, many eolids are small and scarce. Lots of species max out at less than 10mm, and at times the resolution of the photos reachable through this page is not ideal. In addition, there are a number of species we have recorded here for which we do not have pictures. With luck we will run across more specimens and be able to post photos of more species as time goes on.
It is worth noting here that we realize that the details of our classification are not completely consistent. Even the giants in the field disagree on some points, and one of those points is in the breakdown of the Facelinidae and Glaucidae families. One school of thought keeps these families separate, and maintains a number of different genera under Facelinidae. The other places both families under Glaucidae and synonymizes a number of genera under Phidiana. We show a combination of these two viewpoints, but not from any real conviction about what is correct. Rather, we have organized things this way simply out of convenience. No doubt as time goes on and we have time to think about the issue further, we will migrate towards one view or the other.
If you find the thumbnails too slow to load, this link will take you to the same list of links without thumbnails.
FLABELLINIDAE


Flabellina bicolor


Flabellina bilas


Flabellina delicata


Flabellina exoptata


Flabellina riwo


Flabellina rubropurpurata

Flabellina sp. e094


Flabellina sp. e625


Flabellina sp. e626


Flabellina ? sp. e639

PISEINOTECIDAE


Piseinotecus sp. e332

EUBRANCHIDAE


Eubranchus mandapamensis


Eubranchus sp. e133


Eubranchus ? sp. e271


Eubranchus ? sp. e315


Eubranchus sp. e611

Eubranchus ? sp. e613

AEOLIDIIDAE


Aeolidiella alba


Baeolidia japonica


Baeolidia nodosa


Baeolidia sp. e249


Baeolidia sp. e320


Baeolidia sp. e614


Berghia major


Berghia sp. e627


Cerberilla annulata


Cerberilla sp. e643


Protaeolidiella juliae

GLAUCIDAE


Glaucus atlanticus

FACELINIDAE


Caloria ? sp. e521


Caloria sp. e562


Cratena cf affinis


Cratena ? sp. e430


Cratena sp. e591


Cratena sp. e640


Facelina bourailli


Favorinus japonicus


Favorinus mirabilis

Favorinus ? sp. e428


Favorinus sp e554


Favorinus sp. e574


Godiva sp. e032


Herviella albida


Noumeaella rehderi


Noumeaella sp. e220


Noumeaella ? sp. e242


Phidiana indica


Phidiana sp. e551


Phidiana ? sp. e390


Phyllodesmium hyalinum


Phyllodesmium magnum


Phyllodesmium sp. e426


Phyllodesmium sp. e617


Pruvotfolia rhodopos


Pruvotfolia ? sp. e313


Pruvotfolia ? sp. e499


Pteraeolidia ianthina


Babakina indopacifica

TERGIPEDIDAE


Cuthona acinosa

Cuthona cf diversicolor


Cuthona poritophages


Cuthona sibogae


Cuthona ? sp. e128


Cuthona ? sp. e238


Cuthona sp. e272


Cuthona sp. e282


Cuthona sp. e293


Cuthona sp. e329

Cuthona ? sp. e171


Cuthona sp. e427


Cuthona sp. e432


Cuthona sp. e498


Cuthona ? sp. e505


Cuthona sp. e595


Cuthona sp. e603


Cuthona sp. e612


Cuthona sp. e637


Cuthona? sp. e649


Cuthona? sp. e650


Phestilla lugubris


Phestilla minor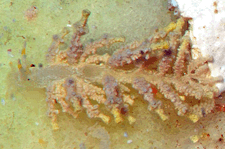 Phestilla sp. e657

Family UNKNOWN

eolid sp. e308


eolid sp. e314


eolid sp. e330


eolid sp. e429


eolid sp. e431

eolid sp. e652