Pupukea, Oahu (Sharks' Cove)
This was one of my favorite spots, good for opisthobranchs both day and night, but it typically could be dove only during the summer. During the winter, the north shore surf could be horrendous (for a diver, anyway). The easiest water entry was in the small cove just to the east of the small park. I would often swim out on snorkel to the mouth of the cove, where I would drop down and start working the ledges to the left and outward. After heading outward along a small ledge, you could jump across a flat gap to the right and start working another system of ledges. One of these has a swim-through cave that was a good hiding place for various nudibranchs. One of the two Noumea sp. h150 I had from Hawaii was found in there, and nearer shore was one of the only two Sclerodoris rubicunda. Following the ledge farther out led to a point in about 15m or so or water with an overhang that was packed with Tubastraea coccinea and usually one or more pair of Phestilla melanobrachia. Night diving in this area would usually net quite a diverse set of nudibranch sightings.
Once again, an unwatched car left on shore might be at some risk. I had a door lock broken here one night and my car ransacked. Not much taken except my dry clothes, but the punched out door lock was a pain to replace. After this I found it better to just leave the car unlocked but to make sure there was nothing inside it to be stolen.
The rocky beach on the left side of the photo below shows the easiest water entry point for this site. Beyond the beach in the photo is a system of shallow pools with a rather high outer barrier, shown a bit closer in the second photo.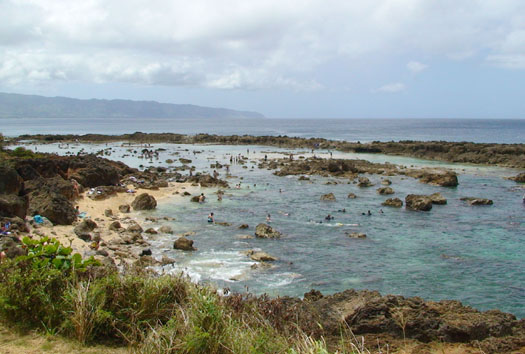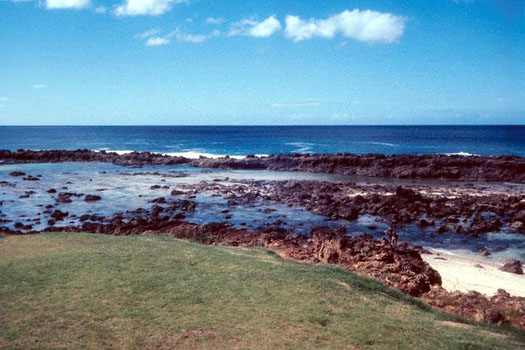 Looking straight out, we see the outer edges of the cove below.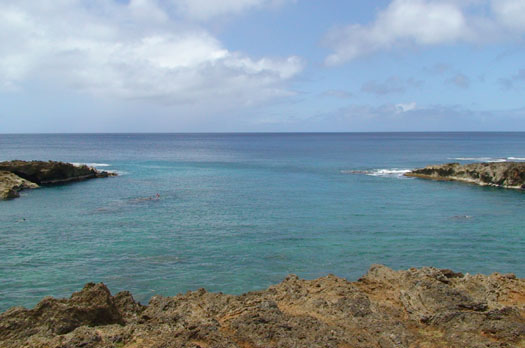 The east side of the cove on a nice calm summer day.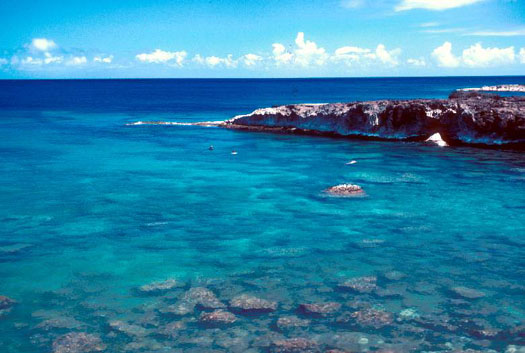 Here is the same area shot from a little to the right side during high winter surf. These waves were reported to be more than 7 meters high. How do those poor little nudis survive the winter?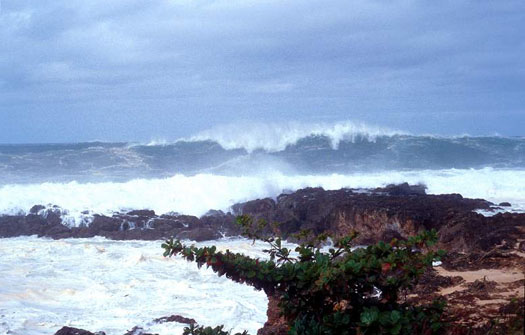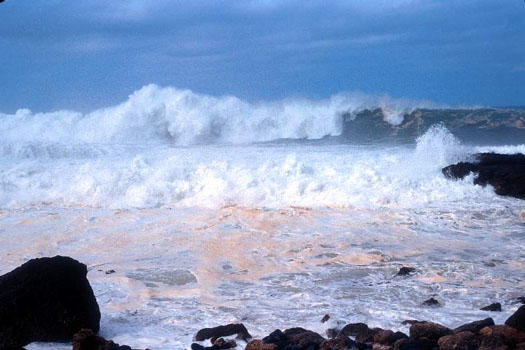 Use the back button to return to the previous page.
Return to Hawaiian slug thumbnails